Monport 20W Fiber Laser Marking Machine 6x6IN Metal Engraver Raycus FDA Ezcad2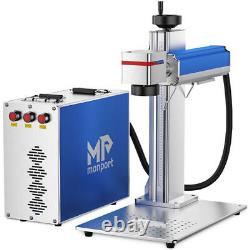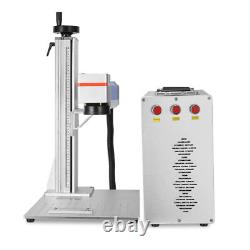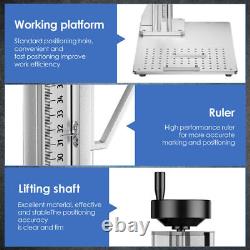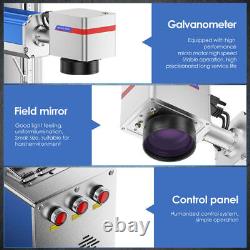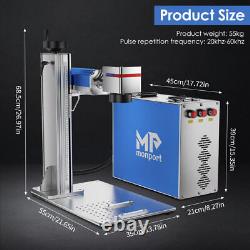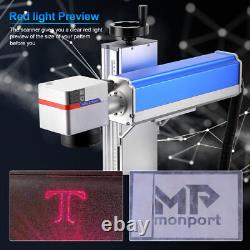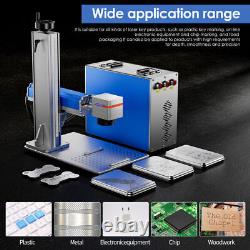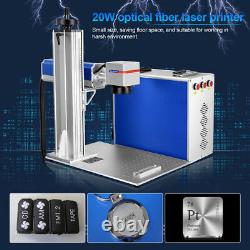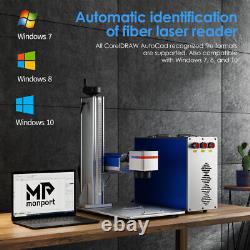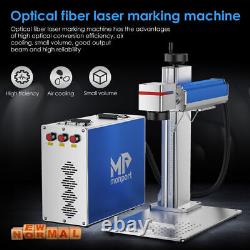 MONPORT 6 x 6in 20W Fiber Laser Engraver, LightBurn Compatible with Red Dot Pointer, Solid State Laser Marking Etching Machine for Metal Aluminum Steel Gold Silver Jewelry More. (152 mm x 152 mm). Field Lens Dimension: 150mm x 150mm. Machine Dimension: 13.7'' x 21.6'' x 26.9'' (35cm x 55cm x 68.5cm).
Main Tower Dimension: 8.2'' x 17.7'' x 15.3'' (21cm x 45cm x 39cm). Package Dimension: 31.1'' x 29.5'' x 14.5'' (79 cm x 75 cm x 37 cm). Product Weight: 88 lbs (40 kg). Package Weight: 106 lbs (48 kg).
Includes EzCad2 software compatible with Windows XP/7/10 (32 and 64 bits). Compatible with Lightburn, AutoCAD, CorelDraw and more. Supported image formats:BMP, GIF, JPG, DXF, PNG and others.
Maximum marking speed of 7000 mm/s. The Sino-Galvo delivers the laser beam with incredible speed and a much higher degree of accuracy than a regular CO2 laser.
Its extreme stability ensures quick scanning, engraving, and project turn around. The Raycus fiber laser source? The source has an estimated lifetime of up to 100,000 hours, depending on power setting usage, which can safely mark most metals, such as stainless steel, gold, silver, and brass. This laser machine has a built-in workspace grid with removable positioning bars for precise material placement.
It also supports an optional rotary axis (not included) to mark tubes, bottles, pipes, and other curved surfaces. The most versatile machine can accept a wide range of accessories sizes and fits well on a desk or can be taken in any studios easily. Once properly adjusted, the external red dot locator calibrates with the laser's scanner to allow a quick and accurate laser focus setup. By rotating the focus-height wheel, you can quickly focus the galvanometer laser on various materials like gold, silver, brass, stainless steel, etc. Plus, the vertical supporting tower is equipped with a ruler for convenient focus height measurements.
All Metals & Some Non-Metal Materials such as Leather, Hard Plastics, etc. This device enjoys stable and dependable operation with a mean time to failure over 100,000 hours thanks to its world-famous laser source. The Galvo-Tech drive and scanning system provides both outstanding accuracy and fast, stable marking of flat surfaces at speeds up to 275.6 inches per second (7000 mm/s). Lens helps create vivid markings on flat surfaces, maintaining a consistent, focused spot size across its 6'×6' (152×152 mm) working area.
Producing less than 1% distortion, it flawlessly executes intricate designs with unbelievable precision. Your EzCad2-based fiber laser engraver works with LightBurn's latest galvo functionality on Windows, MacOS, and Linux systems to let you create even the most intricate patterns easily. Visible laser pointers help make focusing quick and easy. The built-in red laser locator calibrates with the laser's scanner to allow precision work on the machine's workbed.
A dvanced W orkspace(66in). Achieve consistent focus on various materials using the support column's helpful ruler. Rotate the focus-height wheel for quick focusing on every material! Acrylic, Hard Plastics, Brick, Granite, Marble, Tile, Aluminum, Gold, Silver, Stainless Steel, Brass, Titanium, Tungsten. FDA Approved & CE Certified. 20 Watt Fiber Laser Marker Machine 1.