OMTech 50W 7x7 JPT Fiber Laser Marking Machine Autofocus with Camera Rotary Axis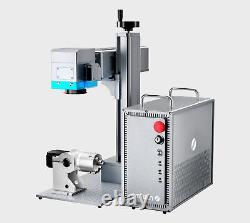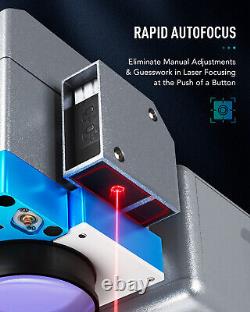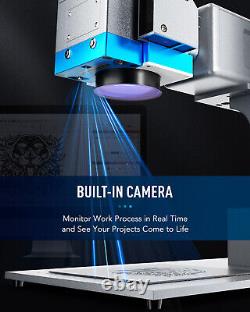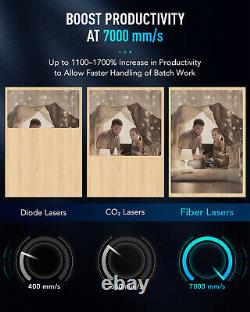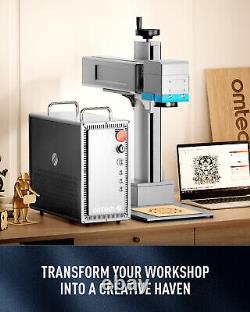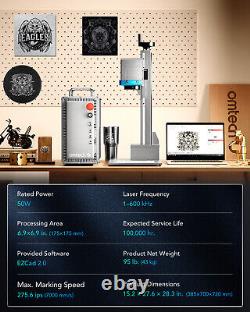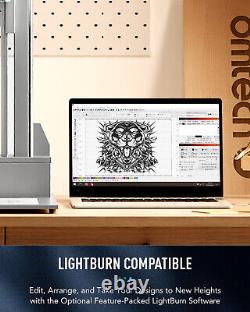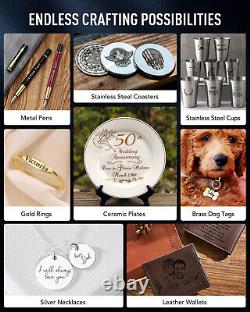 Looking for the most helpful and professional engraving tools? OMTech's 50W fiber laser marking machine is your ultimate resource for engraving words, logos, pictures, barcodes, and more on metal including personalized gold and silver jewelry! And other materials with quick turnaround and perfect accuracy. Our device's state-of-the-art air-cooled fiber laser avoids the tetchiness, fragility, and water-based mess of CO2 laser tubes. Instead, it provides solid-state efficiency, quality, stability, and durability for its entire service life of 100,000 hours.
The autofocusing feature allows you to easily find the exact focus at the push of a button. The fiber engraving machine is controlled by its included copy of EzCad2, compatible with LightBurn software.
For all your projects marking and cutting metal, rubber, leather, and more, you can do no better. Get the most out of your laser engraving equipment with OMTech! OMTech's 50W fiber laser marking machine combines high-speed metal marking, precise results, and exceptional durability with a maximum marking depth of 0.1 mm and an ultra-durable JPT laser source lasting over 100,000 hours. By choosing your preferred focusing method. Simply place the object on the workbed and press the autofocusing button or adjust the laser arm using the UP and DOWN buttons. Experience real-time visibility with our built-in camera and achieve flawless marks with the galvanometer head, enhanced by supplementary lighting for optimal brightness in your work area. Our fiber laser engraver includes the EZCad 2.0 software and is fully compatible with LightBurn software, providing a seamless marking experience, user-friendly controls, and a wide range of customizable features. Equipped with the G3pro-Vision galvanometer, our fiber laser machine offers a remarkable marking speed of. Significantly saving working time for time-sensitive projects. Our fiber laser marker features a 6.9x6.9 inch (17.5x17.5 cm) bed with a built-in workspace grid, providing ample room for a wide range of projects, from intricate jewelry to personalized electronics.
Enjoy US-Based Support & Service. OMTech is dedicated to providing quality engraving available to all. Q: Is the fiber laser marking machine compatible with wood materials? A: No, this machine is specifically designed to work with various metals.
Q: If I need to mark a 190x190 size image, what adjustments can be made? A: To accommodate a 190x190 size image, you can replace the field lens with a 200x200 lens and ensure the focal length is properly set before operating.
Q: What type of laser source is utilized in this machine? A: The fiber laser marking machine uses JPT YDFLP-E-50-LP-R laser source. Marking Area: 6.9 x 6.9 in. 275.6 ips (7000 mm/s). Marking Depth: 0.004 in. (0.1 mm) on a single pass.
Autofocus Height Range: 3.2-19.6 in. Laser Precision Accuracy: ±0.000004 in. Autofocus Precision Accuracy: ±0.004 in. Laser Service Life (MTTF): 100,000 hr.
Operating Software: EzCad2 or LightBurn. Mounting Bracket VESA Sizes: 50x50, 75x75, 100x100.
Mounting Bracket Capacity: 17.6 lb. Overall Dimensions: 15.2 x 27.6 x 28.3 in.
1x 50W Fiber Laser Marking Machine.