US Stock 50W JPT Fiber Laser Marking Engraver Machine with D80 Rotary 175mm Lens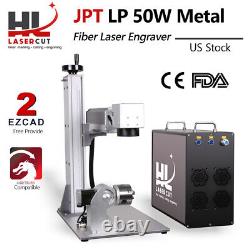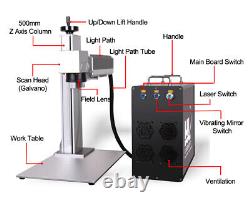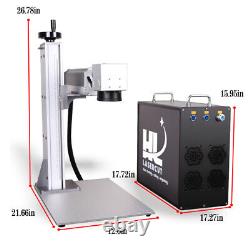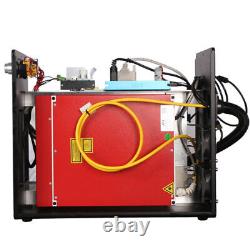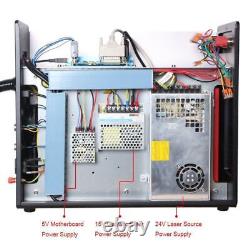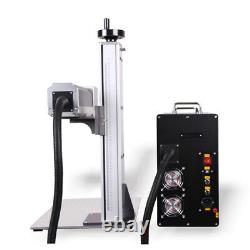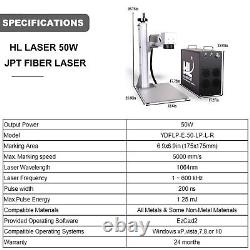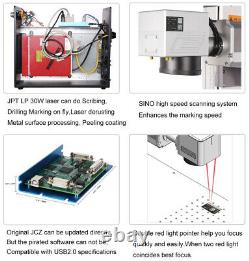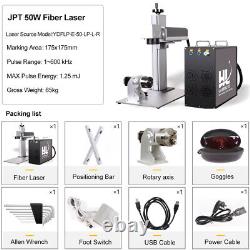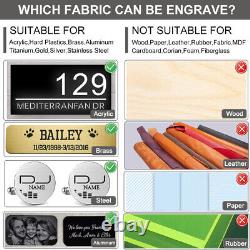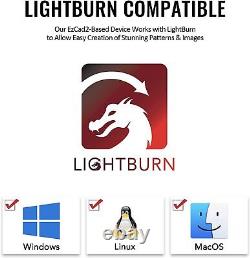 ZIP code from 3xxxx to. The 50W split type JPT fiber laser machine can mark on both metal and non-metal.
Sturdy construction, high efficiency, durable and reliable. Microsoft Windows XP, VISTA, Win7/10/11.
Each one has an unique serial number. LP series laser source has greater flexibility, wider frequency range, higher control precision and superior pulse energy. Air cooling design, no maintenance. LMCV4 series laser controller works with EZCAD2 software via USB2.0.
It is one of the most popular lasers and galvo controllers in the market, with competitive cost and high stability. SINO-GALVO is famous brand which has good running stability, high positioning accuracy, fast marking speed and strong anti-interference ability. Both software are available, LightBurn compatible (not included). Your EzCad2-based fiber laser engraver works with LightBurn's latest galvo functionality on Windows, MacOS, and Linux systems to let you create even the most intricate patterns easily. Lens helps create vivid markings on flat surfaces, maintaining a consistent, focused spot size across its working area.
Visible laser pointers help make focusing quick and easy. The scanning lens provides a clear, safe red light preview of your pattern's outline for convenient positioning. Key Switch & Emergency Button.
Key switch ON-OFF for security consideration. High quality sheet metal work and professional heat emmision hole. Achieve consistent focus on various materials using the support column's helpful ruler. Rotate the focus-height wheel for quick focusing on every material! JPT 50W Fiber Laser Machine x 1.
Tolls bag (pedal, spanners, power cable) x 1. The laser source was tested before sent.
But, it is still 0.7% case happened because damaged on transportation. Q: What can I do with Fiber Laser Marking Machine? A: Fiber Laser is an exciting tool utilizing relatively new technology.
Never before engraving on metal could be done with. Such speed and precision as with fiber lasers.
It's easy to build a solid business with such equipment. For creative people the possibilities are almost endless.
Fiber laser could be adjusted for use on many different materials, including all types of metal like, gold, silver, titanium, aluminum, brass, stainless steel, but also on leather, wood, some polymers and organic materials. This equipment is used in many industries and for variety of applications, like products code marking, gifts personalization, jewelry, decorations, knives and guns engravings, and much more. A: Absolutely, the JPT laser source is the most stable and reliable. Also, it's so quiet that you wouldn't know if it's on or off while using EZCAD to create the artwork.
If you ever had a RAYCUS machine, you would know what I mean. After 2 minutes, you want to shut it down because it's so loud. Q: Why should I invest in a JPT laser source? A: There are several advantages of JPT LP technology over Q-switched pulsed fiber lasers with frequencies ranging from 20 to 80 kHz.
The JPT LP-E model frequency ranges from 1 to 600 kHz, and the RAYCUS 30w model frequency ranges from 50 to 100 kHz, which allows you to work on various materials, not just metals. The laser beam quality is also a factor; JPT is a better choice for jobs requiring precision or artwork with intricate details. Q: I have no experience. Is it easy to use?
A: Yes, HL laser focus on Fiber laser and co2 laser machine for more than 10 years. Also, we send you the marking parameter for some materials.
Q: Are your machine certified? A: The HL laser fiber laser machine is CE&FDA certified.
Q; What are computer operating system requirements for running HL laser fiber laser machine? Q: Do you sell spare parts? A: Yes, we sell spare parts as well, such as lens, Galvanometer etc. Q:What software of fiber laser maker support? A:The machine use the EZCAD2 software.
Q: How about the after-sales service? We will reply within 24 hours. Q: Is the laser compatible with lightburn software?
A: Our fiber laser is equipped with EZCAD2 software and it is compatible with lightburn. Q: Is it compatible with the new ezcad3 software? A: It doesn't compatible with EZCAD3. EZCAD3 is for 3D engraving, this fiber machine is for 2D engraving support EZCAD2.
Q: Does this system come with ezcad2 software? If not, where do I get it and drivers for win 10 pro? A: Ezcad2 software is able to download from our website also driver. Dongle is no need as we use genuine JCZ control board.
Q: Is the software compatible with mac? I only saw windows but before purchasing this i need to be sure because all I own are macs. A: Hello, our marking machine software compatible with lightburn, if you use lightburn, it can be compatible with mac. Q: Will this do a 3D etch? A: This fiber machine is for 2D engraving support EZCAD2.
3D marking requires machine with 2.5D function and run EZCAD3.