30W MOPA M6 Fiber Laser Marking Machine Engraving Gun Ring Jewelry Color Marking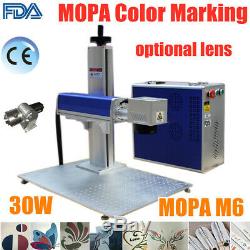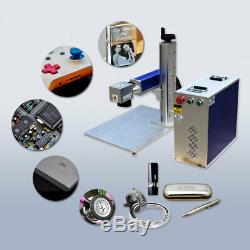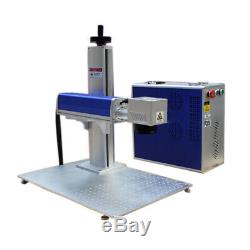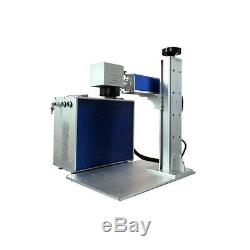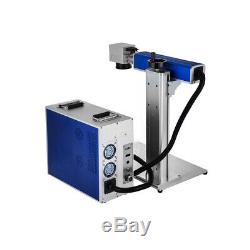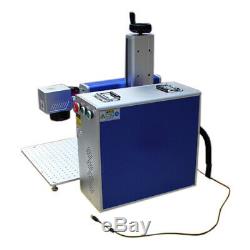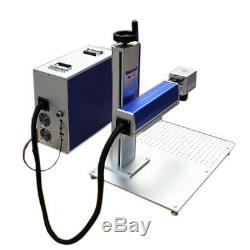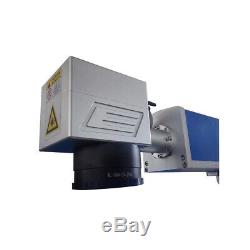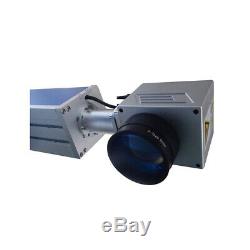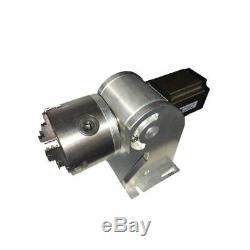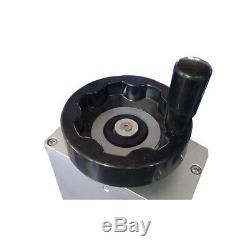 M6 Fiber Laser Marking Machine Engraving Aluminum Black Color Marking + Rotation Axis, FDA. The machine equip with software. This laser marking machine is equipped with M6 series MOPA laser, can do black and white marking on most metals and plastics, black marking on anodized aluminum, color marking on stainless steel and titanium. Fiber Laser Marking Machine mainly consists of four parts: fiber laser, galvanometer scanning system, computer control system and the worktable.
Powerful, simple and convenient operation, Auto-cad, CorelDraw, AI8.0, Photoshop software compatible form. Optical fiber special cabinet, all the mold production, high seal. 4ns 200ns wide adjustable pulse width, wider application range of material. Wide repetition rate for diverse application. Excellent beam quality, excellent processing performance.
First pulse availability and quicker pulse response speed, good choice for highly precise & fine marking. No light leaking, safe marking. 110x110mm (150x150mm / 200x200mm /300x300mm optional). 10%100% continuously to be adjusted.
Windows XP Win7, Win8, Win10. Auto-cad, CorelDraw, AI8.0, Photoshop software compatible. High Precision: Up to 0.0012mm. 1mm stainless steel, suitable for the industries which need high precision and depth marking effect.
Superior Laser Beam: The definition is 1 micron, 10 times as that of traditional products. No consumables: One Fiber marker can work for more than 10 years without any consumables. High Speed: 7000mm / second, is 3 to 5 times above that of traditional products. Original JCZ controller, USB interface, swift and stable transmission, easy software operation, strong functions. High-quality scan head, with good seal, capable to prevent dust and water, small volume, compact and solid.
Strong Compatibility: TTF Font, SHX, BMP, DXF, AI, PLT and other format files output from CorelDraw, PS, AutoCAD, etc. Integrated Air Cooling System, no maintenance. Rotary axis is included, you can mark on regular cylinder or inside / outside ring.
Application differences between MOPA laser marking and Q-switched laser marking. The surface stripping of aluminums oxide sheet, MOPA Lasers are a better choice. Todays electronic products are becoming increasingly lighter and thinner. Many mobile phones, tablets, and computers use lightweight aluminum oxide as the outer shell of the product. When a Q-switched laser is used to mark conductive sites on a thin aluminum plate, it can easily cause deformation of the material and convex bulges on the backside, which directly affects the aesthetic appearance.
With the use of the MOPA lasers small pulse width parameters, it can make the material not easily deformed, and the shading is more delicate and bright. This application has been widely used by electronic manufacturers such as Apple, Huawei, ZTE, Lenovo, on the mark, type, etc.
Used to mark the black mark. For this kind of application, only MOPA laser can process it at present. Electronic, semiconductor, ITO precision machining. In precision machining of electronics, semiconductors, and ITO, fine line application is often required.
The MOPA laser can adjust the pulse width and frequency parameters flexibly, which can not only make the line drawn fine, but also the edges appear smooth and not rough. In addition to the several application cases above, here we list some typical application cases as shows. Aluminium oxide thin sheet surface removal. Easy deformation & rough shading.
NO deformation & fine shading. Can do different shades of black color by setting up different parameters.
Need under the state of out-of-focus, difficult to adjust effect. Can do various color marking by adjusting pulse width and pulse frequency.
Marking effect is prone to yellowing & handfeel heavy. NO handfeel & marking effect is NOT prone to yellowing. Easy to clean up, high efficiency. Electronics, semiconductor, ITO precision finishing.
Pulse width too big, energy too strong. Can adjust pulse width to make laser light spot more finer. Energy also can be adjusted evenly. Color Laser marking Machine can do. Black and white marking on most metals and some plastics.
Color marking on stainless steel and titanium. Black marking on anodized aluminum. Note: stainless steel color marking, because the setting density parameters are very small, will make the marking speed slow, do not recommend batch marking. 70 x 20 x 50cm (27.9 x 7.9 x 19.7in). 81.5 x 46 x 74cm (32 x 10.2 x 29.1in). Power line, USB wire, U disk. The item "30W MOPA M6 Fiber Laser Marking Machine Engraving Gun Ring Jewelry Color Marking" is in sale since Monday, April 13, 2020. This item is in the category "Business & Industrial\Printing & Graphic Arts\Screen & Specialty Printing\Engraving".
The seller is "colorfulworldprinting" and is located in Beijing. This item can be shipped to United States, Canada, United Kingdom, Mexico, Germany, Japan, France, Australia.
Marking range: 110x110mm (150x150mm / 200x200mm /300x300mm optional)
System Operation Environment: Windows XP Win7,Win8,Win10
Brand: QOMOLANGMA
code: LMM-MAX-MOPA
Output Power: 30W
Laser power supply: 0.5KW, 220V/50Hz, 110V/60HZ
Cooling way: Air cooling
Model: MOPA M6 Fiber Laser
Speed: 0-7000mm/s
Laser wavelength: 1064nm
Software: Auto-cad, CorelDraw, AI8.0, Photoshop software compatible
MPN: 0116002941802