Orotig RR-WRITER 70 watt Laser Marking Cutter Fiber 1064nm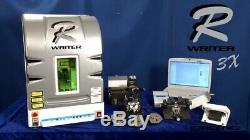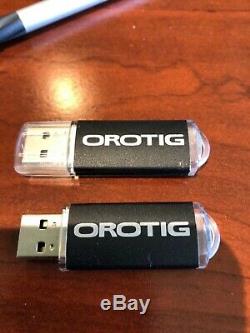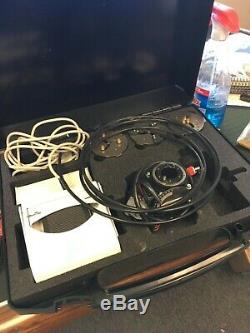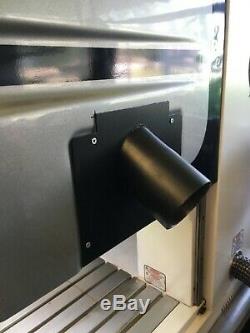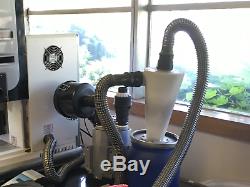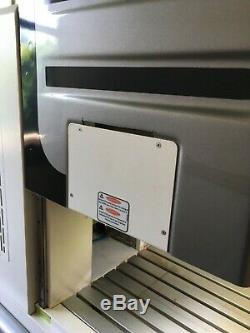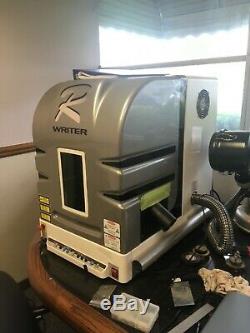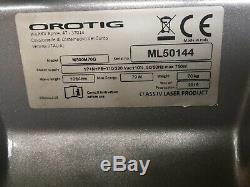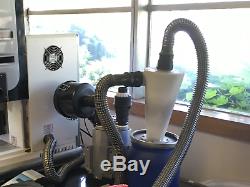 For sale is a Orotig RR-WRITER 70 Watt Fiber Optic Laser Marker Engraver. An exhaust port was installed on the right side of the cover for attachment of the exhaust vacuum system. The LASER-marker RR-WRITER 70 by OROTIG has been designed with the specific intent to cut by LASER metal plates spending the least needed time. Thanks to its particular features and the quality of the components used, this equipment is used to mark/engrave even the most graphically elaborated and complex designs, so obtaining excellent results. This goal is achieved mostly by equipment proper work and respect of treated metal surfaces with a very accurate and well calibrated LASER-beam despite the presence of very high power-output, which is a peculiar feature normally present in equipment suited for LASER-cutting only. This model of LASER-marking equipment results particularly suited for both jewel manufacturing by LASER-cutting by means of a dedicated automatic feeder for metal plates, it can LASER-cut patterns and designs serially and in sequence and customizing jewellery pieces by LASER engraving/marking their surfaces with texts, logos, drawings, images, and graphic patterns. By means of the use of the rotary device jewelry pieces are clasped to fitting spindles it is possible to LASER-mark/cut rings, bracelets and slightly curved surfaces.
The RR-WRITER 70 uses the MULTI-DIODE PUMPED FIBER technology ensuring higher levels of productivity by quality of job done and by managing even the most heavy daily workloads, so fully satisfying the high standards required by todays jewellery market. The result of this technology is an equipment extremely reliable and fast, extraordinarily long-lived, highly efficient and with a minimum environmental impact.
The main features of the LASER-marker RR-WRITER 70 can be summarized as follows. Integrated camera for an optimal viewing of the marking area, allowing operators to better position objects to be marked/cut.
Digitally adjustable Z-axis for an easier focusing of pieces, guided by two high-brightness pilot diode-LASERs. The Cold-Light technology, thanks to an extremely low heat generation, eliminates both the needs to preheat the equipment at start working as well as to use an auxiliary cooling device. Operating commands are present on the machine, at its base, and, on the software for the remote control of operations by means of a PC.
Integrated control for the automatic on/off of the external vacuum device, recommended to be used to filter smokes inside and possibly recoup precious metal dust into provided paper-filters. Possibility to import job files, with a wide range of extensions of images, vectorial drawings, logos, texts, pictures.. Automatic Feeder for Plate Cutting - OptionalThe automatic feeder for metal plates provided by OROTIG makes it possible to mark and cut objects from a metal sheet, without the need of single manual positioning at each task. Fitted with pneumatic electro-valves and electronic movement controls via a console, it is able to reposition the metal sheet any time in need of without the presence of a standing-by operator. Rotary Axis Digitally Controlled - OptionalAll the OROTIG's Writers can be provided with a rotary device with automatic movement, controlled by software.
A tool necessary for LASER-marking rings, bracelets and all round or curved objects. With its 1/500 scale precision, this device guarantees the perfect positioning of markings, even on particularly curved surfaces.
Supports for Rings and Bracelets - OptionalEspecially designed to be firmly applied to the rotary axis device, these three-pin chucks are perfect for LASER-marking the inner or the outern side of rings, bracelets and items with a round shape. LASER-CuttingThe new and revolutionary model with 50W of wer, in addition to fulfill all normal LASER-marking applications, allows tpohe cutting of metal sheets thicker than 1 mm in very reasonable lapses of time. ProductRR-WRITER 70 by OROTIGLASER-source typeMulti Diodi pumped fiber (Yb) LASER (Class 4)Wavelength1059 ÷ 1065 nmLASER Pulse-power70 WPulse Duration40 nSPulse-energy1.0 mJ a 20 kHzM21.0 ÷ 1.6Pulse-frequency70 ÷ 500 kHzScan-headUltra high-speed galvanic mirrors, marking speed > 7m/sScan-heads focus adjustmentThrough the built-in digital keyboard, software and footswitchSpot Diameter25 m Size of L-marking area110 x 110 with 160-mm f-ThetaCooling systemAir-cooled LASER source Auxiliary external chiller NOT required, nor to warm-up timeColor Micro Video-cameraIntegrated, included with 8X zoomAccess DoorMoved up/down by program; openings on the 3 sides to easy introduce ext aux devices into a 32x45-cm working areaPower-supplySingle-phase, 100/240V, 50/60Hz, 9A (12A in 3-axis version)Power Consuption750W-1000W (in 3-axis version)Dimensions (WxDxH)45 x 71 x 65 cm Weight75 Kg. The item "Orotig RR-WRITER 70 watt Laser Marking Cutter Fiber 1064nm" is in sale since Thursday, July 4, 2019. This item is in the category "Business & Industrial\Printing & Graphic Arts\Screen & Specialty Printing\Engraving".
The seller is "ssnova73" and is located in Hudson, New Hampshire. This item can be shipped to United States.
Model: RR-WRITER
Power: 70 W
Brand: Orotig