50W Raycus Fiber Laser Marking Machine with Rotary Axis for Metal Deep Engraving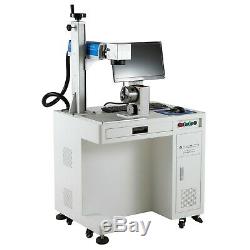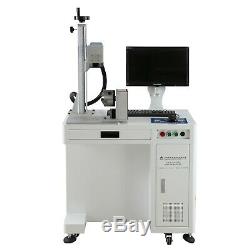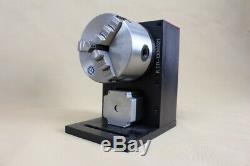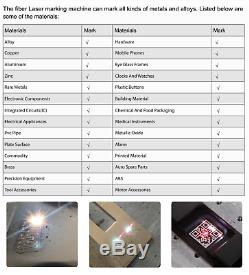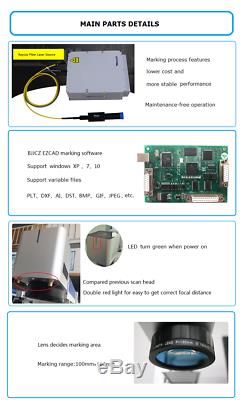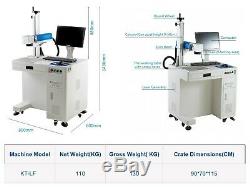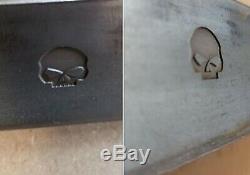 Minimum Line Width:0.017mm. Minimum Character:0.2 mm. Positioning Way:Red light(three-point focusing). Applicable Material:Metal and parts of hard Plastic. Control software:JCZ EZCAD 2.14 Professional fiber laser marking software. Supported Format:PLT, DXF, DST, AI, SDT, BMP, CAD, CDR, DWG and ETC. Operating Voltage: AC220V/50HZ or AC110V/60HZ. Supported Windows:Windows XP, 7,8,10.
Material can be processed all metal material and part of non-metal material, such as hard plastic. Others USB cable for connection, Flash drive with software and English manuals.
Just with parts cost charging if broken. Fiber laser wavelength processes and outputs light much differently. The nearly invisible (IR) wavelength of fiber lasers allows it to be absorbed by reflective materials -namely metals- more efficiently compared to Co2.
For that reason fiber lasers can process the following materials. Stainless Steel, Aluminum (bare or anodized), polycarbonates, Black/White ABS plastic, Brass, Carbon Fiber, Cobalt Chrome Steel, Delrin Black/White, Copper, DAP - Diallyl Phthalate, Magnesium, Molybdenum, Mild Steel, Nylon, Polysulphone, Silicon Steel, Nickel-Chromium Alloys, and more. Please noted that laser marking machine is not good at marking depth, if you want to get the effect depth you want, it will be need repeating marking many times. Our customer service will reply in time.
What is Marking description for some material? Aluminum is one of the most commonly marked substrates and is used in many industries. Typically, with lighter marking intensity, aluminum will turn white. It looks good when the aluminum is anodized, but white marking is not ideal for bare and cast aluminum. More intense laser settings provide a dark grey or charcoal color.
Next to aluminum, stainless steel is the most commonly marked substrate we see at Kuntai Laser. It is used in virtually every industry. There are several types of steels, each with varying carbon content, hardness, and finishes. Part geometry and size also vary greatly, but all allow for a variety of marking techniques.
Plastics and polymers are by far the most expansive and variable materials that are marked with lasers. There are so many different chemical compositions that you cannot categorize them easily. Some generalizations can be made in terms of markings and how they will appear, but there is always an exception. We recommend test marking to ensure the best results.
A good example of material variability is delrin (AKA Acetal). Black delrin is easy to mark, providing stark white contrast against the black plastic. Black delrin is truly an ideal plastic for showcasing the capabilities of a laser marking system. However, natual delrin is white and does not mark at all with any laser.
Even the most powerful laser marking system will not make a mark on this material. The most common technique in plastic and polymer marking is color changing. This type of mark uses the energy of the laser beam to alter the molecular structure of the piece, resulting in a change in the color of the substrate without damaging the surface.
Some plastics and polymers can be lightly etched or engraved, but consistency is always a concern. There are many types of coatings used to harden or protect metals from corrosive elements.
Some coatings, such as powder coat, are thicker and require more intense laser settings to completely remove. Other coatings, like black oxide, are thin and meant to protect only the surface.
These are much easier to ablate and will provide great contrast marking. Kuntai Laser series is capable of marking on coated and painted metals and the ideal system for your application depends on your marking requirements. It may not be ideal for removing a powder coat but it can easily mark a powder coat. Our more powerful fiber lasers come in.
0 watts, and can easily remove the power coat and mark the underlying surface. Our fiber lasers can ablate, etch and engrave coated metals. Brass and copper have high thermal conductivity and thermal transfer properties and are used commonly for wiring, printed circuit boards and pressurized flow meters. Their thermal properties are ideal for laser marking systems for metal because the heat is quickly dissipated. This reduces the impact the laser can have on the structural integrity of the material.
Kuntai Laser series is capable of marking on brass and copper and the ideal system for your application depends on your marking requirements. The best marking technique depends on the finish of the brass or copper. Smooth surfaces can offer a soft polished marking affect, but they can also be annealed, etched, or engraved. Granular surface finishes offer little opportunity for polish. Etching or engraving is best in order to provide readability by humans and machines. In some cases a dark anneal can work, but surface irregularities can cause reduced readability. Precious metals like silver and gold are very soft.
Silver is a tricky material to mark as it oxidizes and tarnishes easily. Gold can be very easy to mark, requiring little power to get a good, contrasting anneal. Kuntai Laser series is capable of marking on silver and gold and the ideal system for your application depends on your marking requirements. Because of the value of these substrates, engraving and etching are not common. Annealing allows the surface oxidation to create contrast, removing only a negligible amount of material.
Aser marking machine with rotary axis. 1USB flashdrive with operator's manual & guide video & client support.
0W laser marking machine with Rotary Device(diameter 100mm). 50 watt raycus fiber laser source. Rotary device(diameter 100mm, hold parts weight within 5KG). Original JCZ software control card. The item "50W Raycus Fiber Laser Marking Machine with Rotary Axis for Metal Deep Engraving" is in sale since Sunday, November 3, 2019.
This item is in the category "Business & Industrial\Printing & Graphic Arts\Screen & Specialty Printing\Engraving". The seller is "kuntailaser" and is located in wuxi. This item can be shipped worldwide.
Model: KT-LF50
Country/Region of Manufacture: China
Machine Operation: Computer Numerical Control (CNC)
Material: Metal
Engraving Application: Signs
Type: Engraving Machine
Tool Type: metal deep engraving
Engraving Method: Laser
MPN: Does Not Apply
Power: 50W
Brand: KUNTAI